How It All Started . . .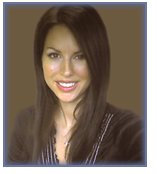 Facelogix Aesthetician, Kathryn Dean, particularly enjoys working with problematic and ethnic skin types (Fitzpatrick Skin Types I through VI). She loves to make people feel good about the way they look. When working with clients, she always listens to their needs and then assesses what will help them achieve the look they are trying to achieve. She also enjoys teaching her clients how to achieve skin care and beauty techniques, so they can recreate their own results at home.

Her interest in skin care started when she was 12 years old. She had a terrible case of grade three acne until her mother took her to see a dermatologist. That proved to be a learning experience she would never forget and caused her to develop proper skin care techniques at an early age. Her experience in the beauty industry began when she started runway modeling at 14 years old. At age 16, Kathryn worked at a modeling school for two years, where she learned the art of photography make-up from a world-renowned make-up artist, Linda Sembera. She started college and continued to work in fashion, print, runway modeling and make-up artistry until the age of 23. She worked in sales, marketing and product development positions with two surgical implant companies from 1993 to 2001. This work experience took her knowledge sub-dermal (under the skin) and she was able to learn about how the body heals from within. She continued to take college courses and received her degree in Science.

In 2003, she started working for Genesis Biosystems, a biomedical engineering and aesthetics company. Genesis Biosystems manufactures the Derma Genesis brand of Medical Microdermabrasion Systems, Chromolite Intense Pulsed Light Systems, Regen Light Pulsed-Dye Laser, LipiVage Fat transfer device and other medical supplies for aestheticians and physicians. She worked as their clinical training and marketing director until 2006. Kathryn enjoyed working with the engineers and developing new products for market and training aestheticians and physicians how to utilize the company's products in their practices. While working at Genesis Biosystems, she went back to school for skin care. She received her license to practice aesthetics in 2005, Certificate in Microdermabrasion, Certification as a Sr. Laser Technician, and Certification as a Permanent Makeup/MicroPigmentation/Tattoo Artist and embarked on a skincare and makeover journey that has led her to where she is today. Kathryn currently owns and operates a VIP Skincare and Makeover Studio called Facelogix, where she performs customized skincare and beauty procedures. This site serves as the Facelogix Online Retail Store, where clients and new customers may purchase the many products Kathryn Dean uses and retails in her skincare and beauty studio.

Kathryn states, "I have been very blessed to work with the most wonderful customers over the years. I love and appreciate each and every one of my clients. I am now offering to the public all of the clinical and beauty products that I currently use and stock at my Facelogix Clinical Skincare & Makeover Studio, so they can achieve similar results at home."